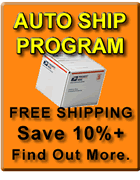 IGF-1 Deer Antler Spray
A Trusted Name in Deer Antler Spray for over 18 years.
IGF Growth Factor Matrix deer antler spray is a exciting product used to maximize the absorption of the growth factor IGF-1, IGF-2 in deer antler velvet extract. Experience for yourself the powerful strengthening and energizing qualities of Deer Antler Velvet Extract in a sublingual spray form maximizing the absorption potency and effectiveness. IGF Velvet Growth Factor Matrix deer antler spray is a standardized soluble formulation of the extract Pantocrinum, a natural material found in red deer antlers velvet. The exclusive formulation procedure preserves all of the deer antler velvet extract's active ingredients in a pure form, a process that boosts the already high blood absorption rate of the IGF Velvet Growth Factor Matrix deer antler spray.

We offer two streangths of product in our deer antler spray line. Our IGF Velvet Growth Factor Matrix red label 5000 deer antler spray introduced over 15 years ago contains 5,000ng of IGF-1 and the full growth factor matrix per bottle. Our IGF Velvet Growth Factor Matrix gold label deer antler spray contains 25,000 ng of IGF-1 and the full growth factor matrix per bottle.
| | |
| --- | --- |
| | IGF-1 Extreme Growth Factor Matrix Deer Antler Spray is a highly purified liquid deer antler velvet extract. Experience the advantage of our advanced extraction process in which the cervine growth factor matrix has been released from the binding proteins. This revolutionary new breakthrough allows for the greatest uptake of the active growth factors. The IGF-1 and other growth factors in deer antler spray have an anabolic effect on the body. This means IGF-1 deer antler spray encourages a leaner body mass, and at the same time persuades the body to release fatty acids from fat tissue. This in turn often improves your immune system. With studies showing a increase in strength and endurance making it the perfect supplement for body building, strength training, endurance training and recovering from a injuries. |
IGF-1 is a natural bodybuilding supplement and weight training supplement.

How does IGF-1 boost muscle mass?
Evidence suggests IGF-1 improves the transport of amino acids into cells throughout the body. The amino acids are critical to the rebuilding of tissue. Like insulin, IGF-1 also increases the uptake of glucose. Also with insulin, it slows the speed of protein breakdown. This is called catabolism inhibition. Thus, IGF-1 is anti-catabolic.
More great benefits of IGF-1 are that it encourages the body to use fat in the muscle cells for fuel rather than carbohydrates. This encourages a leaner muscle mass.

IGF-1 Extreme Deer Antler Spray is a naturally occurring substance extracted from New Zealand Deer Antler Velvet to help promote peak physical performance. Being sub-lingual, it's easily absorbed into the blood stream.

Deer Antler Spray helps boosts the immune system. Deer Velvet sprayhelps oxygenates the blood by raising hemoglobin levels creating more red blood corpuscles for oxygen to ride on.

Buyer Beware
There are many companies today that are selling deer antlers spray that simply will not work. Many companies will not tell you the ng per gram of IGF-1 per bottle. Our Deer antler spray is made with New Zealand deer antler extract not deer antler powder providing a higher potency of ng of IGF-1 then can be achieved with deer antler powder.

TYPICAL ANALYSIS
Deer Antler
Velvet Extract

Protein g/100g 9.5
Total Fat g/100g 0.4
Moisture g/100g 3.5
Ash g/100g 80.5
Carbohydrate g/100g 6.1
Energy kf/100g 280
Energy kcal/100g 64.8
Sodium g/100g 2.7
Phosphorus g/100g 18.0
Calcium mg/100g 70
Magnesium mg/100g 64
Potassium mg/100g 280
Cobalt mg/kg < 1
Copper mg/kg 2.70
Iron mg/kg 7.4
Selenium mg/kg < 0.5
Zinc mg/kg 1.7
IGF-1 ng/gm > 20,000
SUPPLEMENT FACTS


OTHER INGREDIENTS: Purified Water, Vegetable Glycerin, Xylitol, Citric Acid, Lemon Extract Flavoring, Stevia Leaf Extract, and Potassium Sorbate.

DIRECTIONS: Shake Well Before Use. As a dietary supplement, take 3 sprays, 2 times a day under the tongue. Hold 30 seconds before swallowing for best results.

CAUTIONS: Do not use if outer seal is broken or damaged. Not intended for individuals under the age of 18. Consult your health care provider prior to use if pregnant or nursing, have a medical condition, when taking any medication, or allergies to any ingredient in this product.
Home, Product, FAQ, Order, About Us, Animals, Links, Privacy Policy,
Return Policy, Contact Us
We except all major credit cards and paypal.


Please call with any questions or comments.
Toll Free: 877-414-0048 or 719-243-2891

Additional discounts are available for quantity orders.
Deer Antler Velvet Powder, Deer Antler Velvet Extract, Deer Antler Velvet Extract with Amino Acids, Velvet Pet Extreme, IGF-1 Deer Antler Spray
We make every effort to ensure the highest quality and accuracy of information on this site. You should consult with a health care professional before starting any supplementation program. These products are not intended to cure or diagnose disease, or to be taken as a substitute for professional medical advice. These statements have not been evaluated by the FDA.
The testimonials results described may not be typical. Individual results will vary. Shows and media we have been featured on do not imply endorsements. Photos are used for illustrative purposes only and do not imply endorsements.