Superior natural source for growth factor hormones.
Insulin like Growth Factor I (IGF-1)
Insulin like Growth Factor II (IGF-2)
Transforming Growth Factor Alpha (TGF-A)
TGF Beta (Transforming Growth Factor Beta)
Erythropoietin (a stimulant for red blood cell growth)
Leutienizing hormone stimulant
Epidermal Growth Factor (EGF)
Vascular Endothelial Growth Factor
Nerve Growth Factor (NGF)
Neurotrophin Growth Factor 3
Fibroblast Growth Factor (3 types)
Interleukins
Bone Morphogenetic Protein 4
Related growth co-factors
Other Beneficial Nutrients:
Amino acids, prostaglandin, glucosamine, chondroitin, collagen,
Iron, zinc, copper, manganese, selenium,calcium, magnesium, potassium, sodium, sulfur and phosphorus.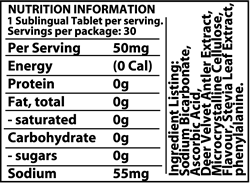 DIRECTIONS: Bite down and break up to activate Fizz tablet and place tablet under the tongue and hold for 2-5 minutes, then swallow. Consume 30 minutes prior to work out or just before evening rest.

CAUTIONS: Do not use if outer seal is broken or damaged. Not intended for individuals under the age of 18. Consult your health care provider prior to use if pregnant or nursing, have a medical condition, when taking any medication, or allergies to any ingredient in this product.